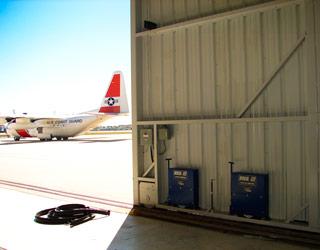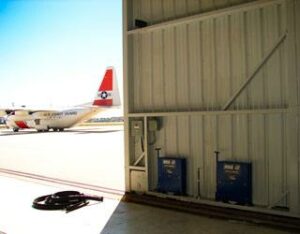 Project Specs:
(16) Hercul-Eze® ID-200M Friction Tire Hangar Door Operators By Well Bilt Industries USA, LLC
United States Coast Guard Air Station, Located in Clearwater, Florida was suffering from old doors that once had hangar door operator that were obsolete and ineffective due to several problems.  The main issue was the original hangar doors had door operators that had sprockets attached to the main drive wheel.  The drive wheel sprockets had excessive wear, and damage teeth.  Replacement of the sprockets, motors and drives was not a cost effective solution, due to labor costs in the field.  Well Bilt Doors suggested using the Patented Hercul-Eze 200 series with manual operation and deadman pendant.  The hangar doors we older and the track was severly pitted.  Well Bilt opted to use two 200 series in tandum to acutate the extremely large hangar doors which house C130 aircraft for search and rescue missions.  Knowing that the Coast Guard relys on these hangar door operators to function when time is critical says alot for the reputaion of Well Bilt to deliver to the most demanding customers
The aircraft hangar door operators are still in used every day for ten years and still goinng strong!
Well Bilt is a proud supplier to the Military, commercial and general avaiation clients for all of their aircraft hangar door needs!