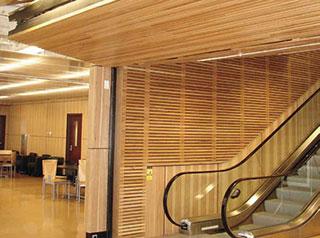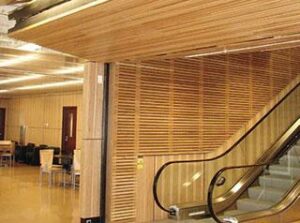 Project Specs:
(1) 21′-1″ x 11′-1″ Bi-Fold Door System
Click here to see this project featured in Metal Architecture magazine
Well Bilt Industries provided a bi-fold door for the Law Library and George A. Smathers Libraries at the University of Florida, in Gainsville. When in the open position, the door allows access to the elevators and escalators.  When in the closed and locked position, the door seals off the elevator and escalator area and offers no access.  The 20 foot 8 1/2 inch by 11 foot 1 inch (6.3 by 3.4 m) door features an auto-lock system, photo eye, remote control and exterior wood paneling to match interior library paneling. Our bi-fold door frames are fabricated with ASTM A500 Grade B welded steel tubing no less than 11 Gauge wall thickness with minimum yield strength of 46,000 psi.  Door sections sections shall be fabricated in a manner so as to prevent bowing, racking, or warping during fabrication in order ot hold the sections to specified tolerances.  Welds which could affect the fit or function of the door shall be ground smooth. The doors shall be provided with power operators to open and close the door.The Motor/Gear Reducer unit shall be equipped with an electric brake to stop and hold the door in any position of door travel. Well Bilt Industries door systems are factory tested prior to delivery. Factory testing is video taped and includes component, installation, maintenance and general operation details.  A copy of this video will be duplicated and forwarded to the customer.