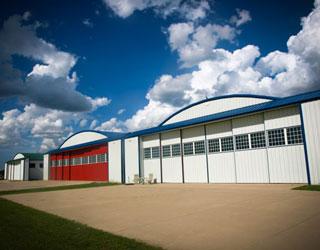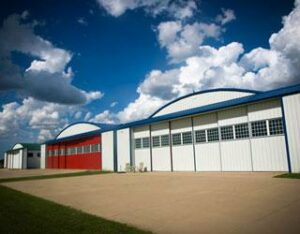 Rolling Door Systems
(2) 60′- 0″ x 17′- 6″
(1) 80′- 0″ x 17′- 6″
Click here to see this project featured in Metal Architecture magazine.
Well Bilt Industries custom manufactured three steel rolling door systems for the hangars. One door, measureing 80′ x 17'6″, is an eight-leaf bi-parting system. The other two are six-leaf bi-parting systems measuring 60′ x 17'6″. All three doors were constructed of the following: Bottom beam 4″ S and C components, with top beams and vertical stiles of 4″ x 2″ x 11-gauge tubing. The interior supports are 4″ x 2″ 14-gauge.  The door systems include top guide systems and bottom tracks, EPDM weatherseals for the bottoms and sides, and Seal-Eze track brushes for the leading edges.
At Well Bilt Industries rolling doors are our specialty, we can customize any door size or style to fit your needs. Our doors are priced economically and designed with the installer in mind.  We pride ourselves on supplying a quality rolling door that is more than just a kit.  At our facility in Williston, FL we have a long experience in designing and manufacturing hangar doors to meet the windload and design specifications.  These are just a few reasons why Well Bilt Industries should be your choice for your hangar door system.