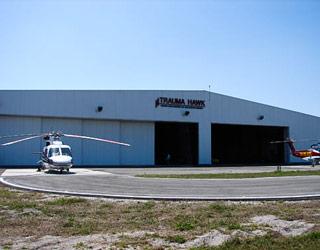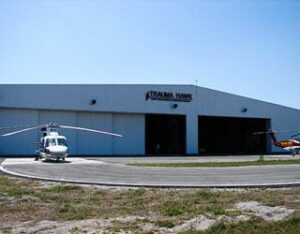 Project Specs:
Rolling  Hangar Door Systems
(1) 95′-6″ x 20′-0″- (1) 50′-0″ x 20′-0
This project consisted of a metal building and roof system from Star Building Systems were used to construct the 25,350 sq. ft. aeromedical facility, with administrative offices, helicopter hangar and maintenance area. The West Palm Beach, FL, project features two rolling door systems from Well Bilt Industries, built to satisfy Florida's 140 mph wind load. One door measured 95'6" x 20' and had six leaves, while the other 50' x 20' door had three leaves. Both were one-way door systems with telescoping top guides and operated by custom electric motor systems. Construction began in January 2005. It was finished in February 2006 at a cost of over $3.1 million. The general contractor was O'Connor & Taylor Inc. Southern Construction Systems SCS Inc. served as the erector and roofing contractor. The designer was MPA Architects Inc.
Palm Beach County and Palm Beach Airport Authority has worked with Well Bilt over the years annd when they County needed a Rolling Hangar Door solution they know they could count on Well Bilt.  Aircraft hangars used for life saving are subject to the same expectations that fire station aparatus doors are, that they should be able to be opened quickly and without failure.  Our rolling hangar doors meet and exceed the expections of the competition.  furthermore our aircraft hangar doors have been specified over and over for Aero Medical use.  The reason is simple, our rolling hangar doors are reliable and easy to maintain.  Simplicty and excellent construction along with hangar door operators that are solid and can stand the test of time.
With warranties that can be extended to ten years why would you not chose Well Bilt's Rolling Hangar Doors and operators for your next project?