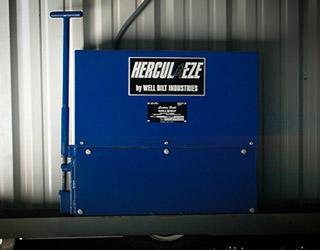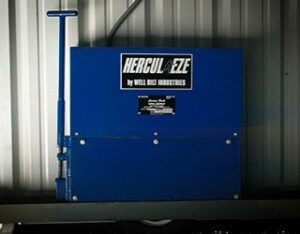 Project Specs:
(4) Hercul-Eze® "XP" ID-300 Friction Drive Hangar Door Operators
Well Bilt designed and manufactured four replacement rolling hangar door systems for older existing C-130 and H-60 hangars. Each hangar had two opposing hangar doors. The C-130 hangar required two bi-parting door systems of six leaves measuring 145 feet by 29 1/6 feet (44 m by 9 m). The H-60 hangar required two bi-parting door systems of six leaves, measuring 145 feet by 34 1/4 feet (44 m by 11 m). Sixteen Hercul-Eze ID 200-M hangar door operators, capable of moving 22,000 pounds (9,900 kg) each, were later added. Each of the four door systems utilize photo eye sensors that span the full width of the clear opening. Each leading leaf is also equipped with a weather seal and safe edge combination that permits a smaller gap between leaves in the fully closed position, aiding in maintaining the rated wind load of the system. This project required that Well Bilt Industries used special military spec paint finish on their doors. All materials, including the steel, nuts and bolts, had to comply with the Buy America Act and were only made in the United States.
Sheltair Facility For the Sheltair Facility at the Clearwater/ St. Petersburg Airport, OSI Building Systems, Montgomery, Ala., manufactured the hangar and steel rolling hangar doors. The project consisted of four hangars, two seven-leaf one-way rolling door systems that are 186 1/3 feet by 27 1/2 feet (57 m by 8 m) and two six-leaf one-way rolling hangar doors systems that are 160 feet by 27 1/2 feet (49 m by 8 m). A Hercul-Eze "XP" operator was required for each of the four hangars and door systems. For this project, each Hercul-Eze operator featured an auto open/manual close system that fits inside the door bottom beam and a 10-inch (254 mm) channel, allowing for maximum clearing. The Hercul-Eze "XP" 300 Series has a push/pull capacity of 40,000 pounds (18,000 kg) per unit. Each unit is custom built to meet the specifications of a project while offering many additional options and safety features as requested by a customer.