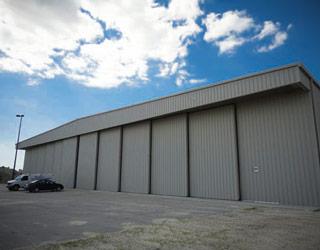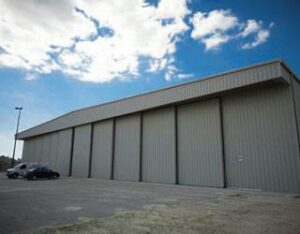 Project Specs:
(1) 160′-0″ x 26′-0″
(2) Hercul-Eze® 300-SW Direct Drive Operators
Click here to see this project featured in Metal Architecture magazine
At Page Field General Aviation Airport in Fort Myers, Well Bilt supplied its custom steel rolling door system for a new 25,000 square-foot multiuse hangar located on hte northwest side of the field that will house and protect aircraft from the elements. The project had its own set of specifications.  The project consisted of one 160′ x 26′ steel rolling door system that met 130 mph wind loads.  The system is made up of 10 – 16 1/4 by 26-foot leaves, made up of 24-gauge corrugated steel PBR panels, set up in a bi-parting system. Additionally, the doors feature 10-inch structural tube and channel, telescoping top guide system, a 40- pound ASCE bottom rail and certically adjustable bottom rollers.  Well Bilt Industries, a woman-owned small business located in Williston, FL, has been manufacturing a variety of custom steel doors for more than 30 years, with experience in aviation, marina, industrial and military industries.  Well Bilt offers a variety of products, including bi-fold, bottom rolling, swing-out, one piece hydraulic doors and blast doors.  Additionally, Well Bilt's Hercul-Eze operators are available in five models can be used with their rolling-door systems or separately for retro fit projects.