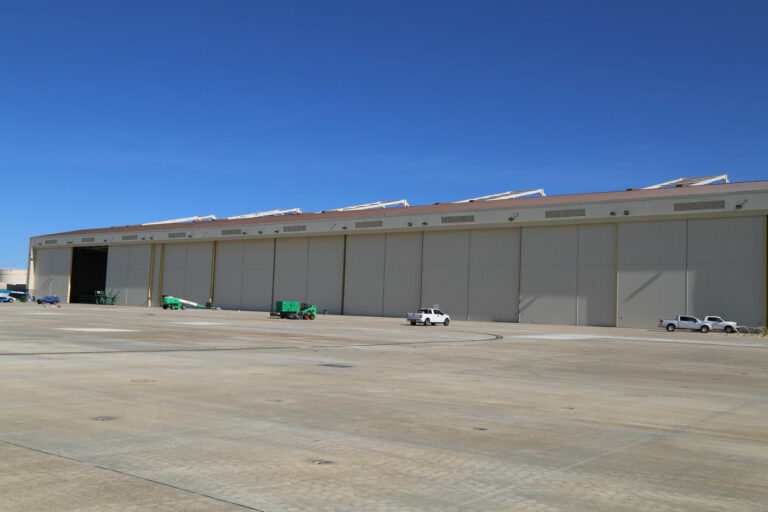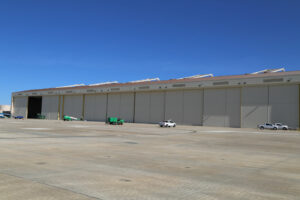 P654 VP-30 NAS JAX – JACKSONVILLE FLORIDA
DOOR SIZE: 600' X 50'
CONFIGUARTION: FLOATING PANELS
OWNER: DEPT. OF DEFENSE
CONTRACTOR: HCR CONSTRUCTION
CONTACT: TOM SAIS PROJECT MANAGER
COMPLETION DATE: JULY 2016
Well Bilt Industries USA, was contracted to supply a new aircraft hangar door system for an existing hangar that was being modified to house the new aircraft the Navy was moving to the base. Well Bilt was selected to supply the aircraft hangar doors.   The project took approximately 12 weeks to manufacture the panels and delivery them to the site which included a three step paint process.  The system design was a "Floating Panel system" utilizing linked leafs to accomplish the large panel span of 60 feet per panel.  The Floating System for the aircraft hangar doors was controlled using NEMA 4 control panels and operated on each end of the door to jockey the panels into the correct positions. Power was fed using a conductor bar and trolley system to energize each panel.  The NAVFAC Specification was modified to include a high performance paint specification equal to the same marine coatings that are currently used on all vessels in the Navy.
This project included safe edge on each panels front and back and had interlocks connected to the panels that operated the door panels.  Aircraft hangar doors of this size are rigorously engineered and go through a complex quality assurance program to provide years of service.
The Project was delivered on time and on budget and Well Bilt is proud to support the armed forces, for decades Well Bilt has been supplying aircraft hangar doors to the armed forces as well as commercial and residential customers.