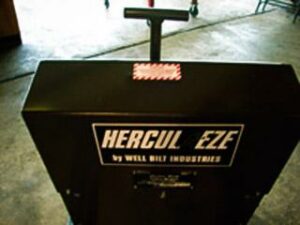 Project Specs:
(4) Hercul-Eze® "XP" OD-300
Moody Air Force Base requested 4 of the Hercul-eze XP OD 300 hangar door operators for the new aircraft hangars they were building.  Well Bilt Industries long standing reputaion for providing the finest aftermarket hangar door operators has been one of the largest factors in the growth of Well Bilt.  The first operator was designed and built by Mike Bilt, founder of Well Bilt and heir Carol Bilt added to the quality during her tenure as president and owner of Well Bilt.
Moody AFB was looking for some custom options for thier hangar door operators and that was a custom paint finish, "Moody Tan"  this was a simple customaization for the company because Well Bilt is a nimble company that encourages the enuser to customize hangar doors and hangar door motors and system.  The base model comes in Well Bilt Blue however our hangar door operator have six seperate colors for a nominal upcharge and custom colors depending upon finish as well as specific paint types or brands. note that all of our hangar door automation systems come fully crated and packaged so they are not damaged during shippment.  Well Bilt Industries fabricates 100, 150, 200, 300 and 500 series hangar door actuators that can be used on your hangar door or ours.  We understand that we may not sell every hangar door, but when it comes to your power actuator for your hangar door call on us just a Moody AFB did.
We encourage you to visit the factory, call or email your specific needs or desires so our team of craftsmen can custom fabricate your new hangar door operator.