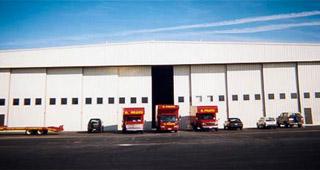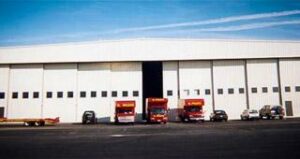 Project Specs:
(1) 162′ x 28′ Rolling Door System
(2) WELL BILT Patented Hercul-Eze Hangar Door Operators Solution
Well Bilt Industries was contracted with the opportunity to supply the rolling hangar doors and hangar door operators for this project.  The overal design consists of a ten (10) panel Bi-Parting Hangar Door,  with a northern stack configuration.   The overall clean opening of the rolling hangar was 162′ X 28′ tall. The important part of any hangar door system is to verify the location conditions including the ice and snow load in order to properly design a system to work in the specific area.
When considering the door height the owner asked what the limitations are for doors of this size, per the NFPA 409 which is the basic guideline of all aircraft hangars, your are limited to a maximum door height not greater than 28′ unless the building is foam suppressed.  The increased installation cost of a foam system as well as the year cost, often is the driving force to keep your hangar door limited to 28′ tall. To go futher, aircraft hangars are generally used for GA aircraft storage and not commercial aircraft storage.  Thus most hangars are designed for aircraft up to 28′ for the tail hieght of the Gulfstream's and Global Express which have tails less than 28′.
At Well Bilt, hangar doors are our passion, call on Well Bilt for your Rolling hangar door and hangar door control needs.