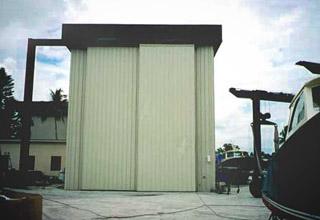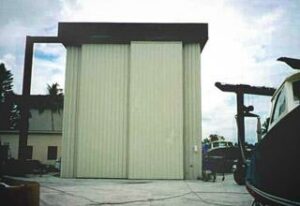 Project Specs:
(1) 26′ 0″ x 34′ 0″ Rolling Paint Booth Door System (Industrial Door)
Florida is know for it waterways and highend boat builders.  Hinckley Yachts is one of the finest yacht craftsman in the world, and manufactures picnic boats as well as majestic sailing vessels.  Their high end clients have come to expect a service center that matches the quality of the yachts they purchase, so when the time came for Hinckley to install there new Rolling Paint Booth Door, it was no suprise that they chose to use a Well Bilt Door.
Well Bilt Industries USA manufactures and installs the highest quality doors at competative prices to general contractors as well as private clients.  Industrial rolling doors such as the rollinng paint booth door system we supplied are a common occurance at Well Bilt.  Industrial Doors as well as our Hanngar doors and Hangar door operators make us the economical solution.  At the end of the day, the client could have gone to another supplier, but knowing that their paint booth door system would last was priceless.  Using a company that understands the critical needs of their client and providing the finish solutions as well as the knowledge to perform is what make us succesful in our core business.