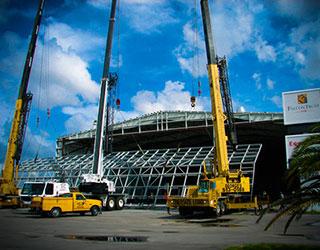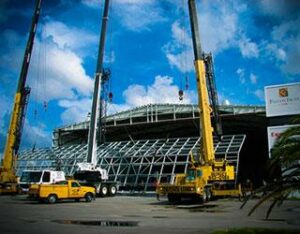 Project Specs:
(1) 122′ 8″ x 34′-0″ Bi-Fold Door System
***WIND LOAD 150 MPH***
Click here to see this project featured in Metal Architecture Magazine.
Well Bilt Industries supplied a 122′ 8″ by 34′ door with a 150 mph windload for the west common hangar for Falcon Trust Air, a top-ranked fixed base operator, at Tamiami Kendall Airport in Miami.  The Super Bi-fold door is powered by eight  2-horsepower units with a gear reduction of 240:1.  The door also features an auto-lock system, safety edge and warning bell, as well as a keyed lockout control panel and fused safety disconnect. Well Bilt Industries custom fabricates all door hardware for its door systems, and for this project, all hardware was super-sized by 200 to 300 percent to accommodate the door's size, weight, and vertical and horizontal reactions.  The Dade County approved  super bi-fold door was deivered in May 2008, and the project was completed later that year. Dean Steel Buildings, Inc manufactured the hangar, the project included 8,000 psi Rib-12 Galvalume panels.  The 24 gauge metal panels have purlin-bearing legs and are Dade County approved. The project engineer was Infinity Engineering, Miami, and the general contractor was Everest Builders Inc, Miami.