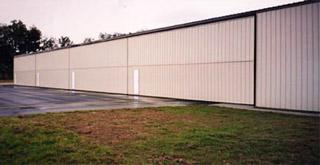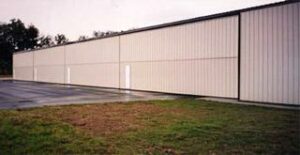 Project Specs:
(16) 45′ x 16′-3″ BiFold Hangar Doors
Williston Florida is known for its peanuts, boat manufacutring, trailer manufacturing and hangar doors, it was safe to say when the airport manager was building a new aircraft hangar project consisting of T hangars, they would call on the resident expert.  The team of experts at Well Bilt worked with the architects and engineers in designing the aircraft hangar doors for the project.  Well Bilt also worked with other team memebers such as the Pre Engineered Metal building supplier.  The project was completed in two phases of 8 units each over a two year period, so it was safe to say the City had a choice to use anyone else, however they chose Well Bilts Bifolding hangar doors for the aircraft hangars.
Now we will say it was a natural choice for the airport to choose a local company for the frieght savings alone, the City has had years of exectional performace from thier bifold hangar doors.  We are certain that when thier next expansion comes we will be asked to provide the doors as well, weather they are Bifold Hangar doors or Hydraulic hangar doors, we have a aircraft hangar door for your needs.