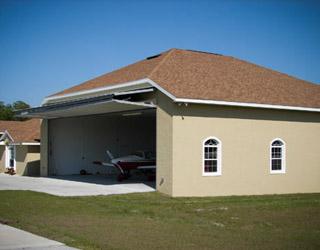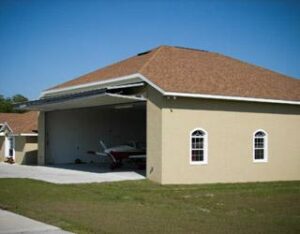 Project Specs:
(1) 42′-6″ x 16′-6″ Bi-Fold Hangar Door
Loves Landing, one of Florida's premeir fly in communities has several Well Bilt Industries, Bifold Hangar doors.  With origins dating back to the 80's Well Bilt has been designing and manufacturing the Bifold Hangar Door.  The project at lady lake was a detached aircraft hangar that was designed to store the owners two fixed wing aircraft.  The owner was concerned about which BiFold Hangar Door to purchase.so both he and his wife flew over to Williston to visist the factory,  One of the major concerns was what was the installation cost and was it practical for him to install it?  Well we explained how our door is fully assembled in our shop and tested prior to shipping and the rest they say is history.  The end result was the Owner got a excellent door system that was pre assembled and ready for installation.
When your next project calls for a Bilfold Hangar Door, wether it is for a commercial or residential use as well as high end bifold crane doors, call on Well Bilt, a trusted name for 3 decades.