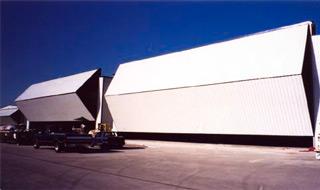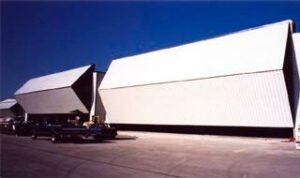 Project Specs:
(2) 60′-6″ x 21′-9″ Bi-Folding Hangar Doors
(2) 90′-8″ x 36′-9″ Bi-Folding Hangar Doors
The Jet Service Center developed four aircraft storage hangars on the northern side of the field in order to compete with the only FBO on the field.  Well Bilt has been part of the Ft. Pierce Airport for many years suppling rolling and Bi-folding Hangar Doors.  When the expansion for Jet Service Center needed doors, Well Bilts team met the needs of the Owner and architect to supply the hangar doors.  One of the requirements was to have the door higher than the building eave.  The hangar doors were mounted to stub columns above the roof line and sheeted for water proofing.    At the top of each Bi-Folding hangar door we use EPDM at the head to provide weathering and water intrusion as well.  This may seem like a small insignificant item, however we EPDM becasue it has a high UV resistance unlike our competitiors who use neoprene.  this is just one example of why we say our aircraft  bi-folding hangar door systems out last the competition.
The bi-folding hangar doors Well Bilt manufactures are custom to each endusers requirements, we go beyond the requirments to insure that each Bi-folding Hangar Door systemwe sell will perform to the expectations of the client.  This project was no exception, the doors are still in service today.