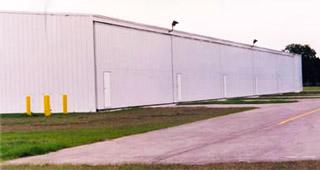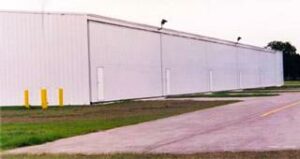 Project Specs:
(10) 46′-6″ x 16′-3″ Bi-Fold  Hangar Door Systems
(1) 125′-0″ x 19′ Rolling  Hangar Door System / (2) WELL BILT Patented Hangar Door Operators
Hillsborough County Airport Authority utilized Well Bilt Hangar Doors for this large project.  The aircraft storage hangars are located in two seperate units, one for the T hangars and one for a large corparate hangar or commercial aircraft hangar.  The T hangars Utilized the Bi Folding Hangar Doors for the 10 unit T Hangar structure.  Special attention was taken for the installation as these hangar doors were taller than the typical hangar door systems for widths of that size.
The Bi Folding Hangar Door systems Well Bilt was requested to manufacture contained personnel doors in the bi fold hangar door panel below the hinge point.  it is customary for T hangars to have a means of egress/ingress and in this case the access was in the panel.  When the bi fold hangar door is manufactured with a personnel door the frame for the walk door is welded in place at the time the jambs are installed. The doors are the standard lever lock system that requires the tentant to manually open a lever that pulls up the floor pins out of the floor and removes the side locks for the door to safely move into the open position.
When you project calls for a bi fold hangar doors call Well Bilt for a free quote on that or any of our other hangar doors or hangar door operators.