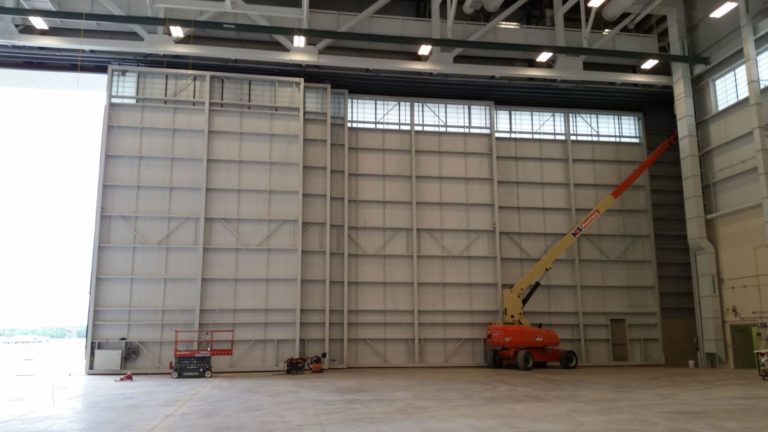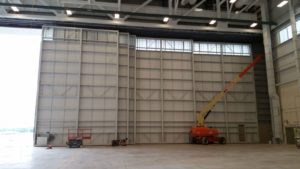 Cutter Enterprises contracted for an aircraft hangar door system for new construction of the Fuel Cell and Corrosion hangar located in East Granby Connecticut. The aircraft hangar door system is comprised of a five leaf, one way stacking door system that is clad with an insulated metal panel. The most interesting feature of this system is the use of the clear story panels in the upper portion of the door. WELL BILT  supplied the framing to accommodate the glass system and provide a weather tight seal. This door is powered by a single drive unit that WELL BILT manufactures, called the ZEUS drive. The Zeus Steel Wheel design is engineered to be released during power failures. Aircraft hangar doors of this size rely on a powerful and reliable operator to open and close the door, even during icy winter months.  
This aircraft hangar door system is designed with a pocket to one side that provides exceptional weather sealing in the coldest temperatures. 
The doors of this aircraft hangar support C-130 aircraft. WELL BILT projects meet or exceed specific designs using the most up-to-date safety products like safe edge, which lets the user know when the system is inoperative. Another safety product is the use of interlocks for the personnel doors, located in the hangar door panel, that prevent the door from moving when the personnel door is in use. Horns and strobes also bring attention to the door when moving. All WELL BILT hangar doors are adequately labeled with user instructions.
WELL BILT Industries is proud of the extensive Military projects it has provided around the world.